Graduate Program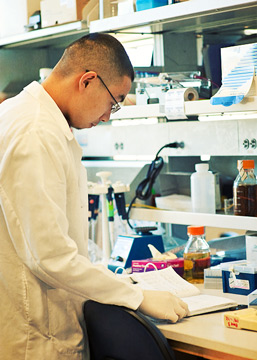 The graduate program in Molecular Physiology and Biophysics offers opportunities for training and research leading to the Ph.D. degree. Faculty in the Department of Molecular Physiology and Biophysics have a strong research focus on the cellular and molecular mechanisms of physiological processes. Students join an active group of faculty members and advanced students at an exciting time of expanding interdisciplinary research in molecular and cellular biology and the neurosciences at The University of Iowa. During the first and second years, students take courses and participate in faculty research in one or more laboratories. After satisfying course and comprehensive examination requirements, students devote their full time to thesis research under faculty supervision. All degree candidates gain experience in classroom instruction as part of their training.
Graduate students come to the Department of Molecular Physiology and Biophysics from diverse backgrounds and a variety of undergraduate institutions both domestic and foreign such as the University of California system, MIT, Brown University, University of Chicago, University of Minnesota, and University of Southern California, as well as foreign countries including Thailand, Ukraine, China and Korea. Students looking for a quality program will find a history of productive departmental faculty with an outstanding ability to prepare students for a successful career in biomedical research and education. Most students join our program because of a desire to conduct research with a particular faculty member or because of their interest in one of the research areas emphasized by our faculty within the department. For a detailed overview of faculty research interests, go to our faculty research page and follow the links to individual faculty pages.
Nearly all of our graduating students (>95%) move on to postdoctoral positions at institutions such as the Mayo Clinic, Yale, Johns Hopkins, and the University of Chicago. Many obtain positions in academic departments within 3-5 years following completion of their Ph.D. In addition, graduates will find there are a wide variety of positions available with government agencies, pharmaceutical and biotechnology firms, biomedical writing & publishing companies, consulting firms, and in business development and sales. A degree in Molecular Physiology & Biophysics easily crosses borders by providing students with broad training giving them the edge in the job market.
Our faculty take a personal interest in ensuring the success of our students while they are enrolled in our graduate program, as well as on the long-term ability of students to move ahead to challenging and rewarding employment opportunities.
Applications to the Molecular Physiology & Biophysics Ph. D. Program are submitted via the Biosciences Program Application. You will receive a username and password that will allow you to return to work on your application over several sessions. Your information is transmitted through a secure server and is kept confidential until you submit your application. There is no application fee. Correspondence as well as all technical support messages will come from biosciences-admissions@uiowa.edu. If you use a spam-blocking tool, please be sure to add this email address to your list of known/safe addresses.
To view the University of Iowa General Catalog section on our department click here.
For more information you may contact any faculty member by email or contact our Director of Graduate Studies at:
Mark Stamnes, Ph.D.
mark-stamnes@uiowa.edu
Director of Graduate Studies
University of Iowa
Dept. of Molecular Physiology & Biophysics
6-550 Bowen Science Building
Iowa City, IA 52242
Phone: (319) 335-7858
Fax: (319) 335-7330