Postdoctoral Program
There are currently 24 Postdocs in the Department of Molecular Physiology & Biophysics. Each postdoctorate plays an important role in the research of this department by completing projects in the laboratory, publishing results of their research, with their mentor, in highly regarded scientific journals, participating in departmental workshops and attending weekly seminars. Previous postdoctorates that have studied in this department have gone on to hold positions at institutions such as the University of California, San Diego, Scripps Research Institute, University of Michigan, and the National Jewish Hospital.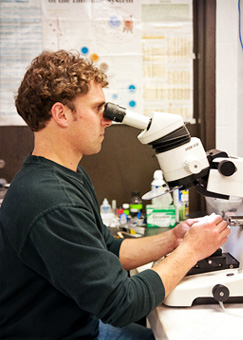 Postdoctorates are encouraged to apply for grants or special fellowships that support their area of research. The Department provides training for select individuals who have demonstrated promise for productive research at the graduate student and postdoctoral level in molecular and cellular physiology, neurobiology and genetics. Openings are advertised individually as they become available.
Candidates for the position must have recently completed their Ph.D. or M.D./Ph.D. degree. Applicants should access the research programs of individual faculty, select an appropriate member, and submit a letter of application, Curriculum Vitae and names of references to that faculty member for nomination to the selection committee. The University of Iowa is an AA/EO Employer, and we encourage women and minorities to apply.