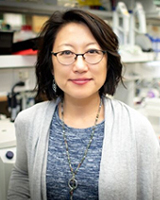 Amy Lee, Ph.D.
Amy received her Ph.D. in Neuroscience at the University of Virginia with Kevin Lynch working on adrenergic receptor localization in the brain. She developed an interest in Ca2+ channels during her postdoctoral training with Bill Catterall at the University of Washington. She is broadly interested in how Ca2+ channel regulation, by a variety of factors, controls cellular function in the nervous and cardiovascular systems. Aside from doing experiments and brainstorming with people in the lab, Amy enjoys running, biking, cooking, traveling, and spending time with her family.
Research Assistant Professor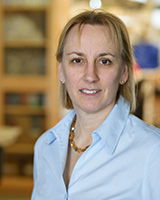 Mei-ling Joiner, Ph.D.
Mei-Ling's long-standing interest in neural signaling mechanisms began during her PhD research training with Dr. Leslie Griffith at Brandeis University when she learned about neuroscience and postranscriptional modification signaling in the cell. During that time she worked in cell signaling involving kinases as well as channel and receptor proteins and did extensive microscopy of neuronal imaging. In her post-doctorial studies with Drs. Chun-Fang Wu and Johannes Hell she gained experience in excitable cell biology, channel proteins and continued her focus on synaptic signaling molecules. Mitochondria are vital to energy metabolism and utilize ion channels to interact with other cellular components. Currently, she is interested in understanding the mitochondrial involvement in cell processes. Her research interest in how excitable cells function, through fruitful collaborative efforts, is applied at many levels using methods ranging from MALDI-TOF and protein identification at the molecular level, to cellular models and using transgenic animals at the whole organism level. Outside the lab she enjoys cooking, playing shinny and traveling with family and friends.
Assistant Research Scientist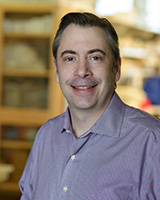 Jason Hardie, Ph.D.
Jason received his Ph.D. in Neuroscience at the University of Wisconsin with Dr. Robert Pearce. He studied the modulation of GABAergic IPSPs in the dendrites and soma of neurons by postsynaptic voltage-dependent conductances, and how different populations of GABAergic IPSPs pace action potential generation during rhythmic activity. He worked with Nelson Spruston at Northwestern University, investigating the location dependence of inputs during dendritic integration and plasticity. When not patching with Tom Waits or Nick Cave in the background, he enjoys exploring the outdoors, hiking, and writing short stories.
Vasily Kerov, Ph.D.
Vasily received his Ph.D. in the Department of Molecular Physiology and Biophysics at the University of Iowa with Nikolai Artemyev working on the mechanism of transducin (a G-protein) translocation in photoreceptor cells. Currently, Vasily, co-mentored by Sheila Baker (Dept of Biochemistry), is doing research on the role of Cav1.4 calcium channel in the maintenance of photoreceptor synapse and night-blindness (CSNB2). He also is working to identify the trafficking determinants of the channel. Vasily is also interested in neuroscience in general and particlularly in synapse development, function and maintenance. Outside the lab, Vasily spends much time with his family, and recently started sailing.
Postdocs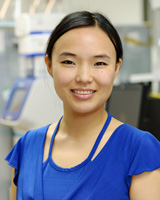 Tian Yang, Ph.D.
Tian received her Ph.D. in Biology at the University of Iowa with Bernd Fritzsch. Collaborating with Alex Bassuk, she worked on the role of Prickle1 in the development of limbs, palate and neuron migration, and trying to understand how Prickle1 is related to other PCP genes, such as Vangl2. Currently, she is working on the role of CaBP1 in auditory and the brain. Outside the lab, she plays piano and pipa (a Chinese lute). She also enjoys walking, travelling and spending time with friends.
Grad Students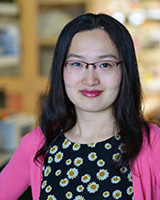 Shiyi Wang, B.S.
Shiyi received her Bachelor of Science degree in Pharmacology from University College London in the United Kingdom in 2011. She came to the Lee lab to explore the interactions of L-type Ca2+ channels and Densin-180 in the summer of 2011. At present, she is PhD student in Physiology and is studying the roles of Densin and RGS14 in ion channel regulation. Except spending time withproteins, she enjoys listening to music, reading, doing yoga, travelling and talking with her parents on Skype.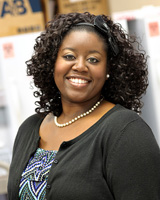 Jessica Thomas, B.S.
Jessica Thomas received her Bachelor of Science degree in Chemistry from Alabama State University in 2010. Broadly she is interested in the mechanisms in that underlie learning and memory. She came to the Lee lab in the summer of 2011 to explore the modulatory effects of RGS14 on L-type Ca2+ channels. At present, she is PhD student in Interdisciplinary Neuroscience Program and is studying the roles of neurotransmitters and G proteins in ion channel regulation. Outside of lab, she enjoys singing, traveling, and hanging with friends.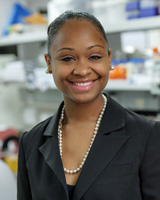 Brittany Williams, B.S.
Brittany Williams received her Bachelor of Science degree in Biology from Delaware State University in 2012. She is currently a PhD student in the Interdisciplinary Neuroscience Program. She is interested in the accessory α(2)δ-4 subunit of Cav channels and its roles in the retina and brain. Outside of lab, Brittany enjoys playing basketball, listening to music, cooking, and watching Netflix.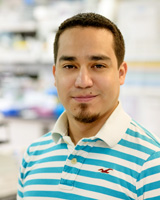 Josue Lopez, M.S.
Josue completed his Bachelor of Science degree in Molecular Bioscience and Biotechnology from Arizona State University in 2010. In 2014, Josue received his Master of Science degree in Interdisciplinary Studies in Molecular and Cellular Biology at the University of Iowa. Under the mentorship of Dr. Ernesto Fuentes, he identified and validated small molecule inhibitors for Tiam1 PDZ domain interaction with Syndecan1. Currently, he is investigating the role of RIM2 interaction with auditory (Cav1.3) and photoreceptor (Cav1.4) Cav channels. Outside the lab, he enjoys watching movies, soccer games and listening to music.
Research Intern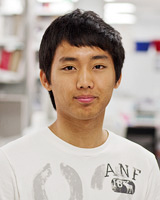 Daniel Soh, B.S.
Daniel received his Bachelor of Science degree in Human Physiology with honors at the University of Iowa in 2014. He first joined the Lee lab in May of 2011. Previously he investigated the effects of Calcium Binding Protein 1 on taste perception of mouse. He is interested in molecular biology experiments such as developing plasmid constructs for Yeast Two Hybrid assay and for Chimera for certain calcium channels (Cav 2.1 and Cav 2.2). He is currently investigating whether calcium binding proteins are targeted to mitochondria. Outside the lab, he enjoys playing soccer, reading, playing guitar, and traveling.
Lab Manager/Research Associate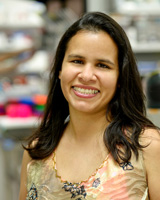 Jussara Hagen, M. S.
Jussara received her M.S. in Cell Biology at the University of Campinas, Brazil. She has joined the Lee Lab this summer (2014) as a lab manager. She brings over ten years of molecular biology expertise and lab management experience. She oversees daily lab operations, train students, develop research projects, serves as an interface between Dr. Amy Lee and her multiples collaborators and assures compliance with UI regulations among other duties. Outside the lab, she enjoys reading, outdoors activities and time with family.
Lab Admin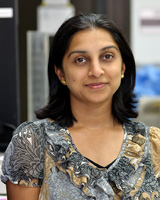 Bhuvana Parampalli, B.A.
Bhuvana received her Bachelor of Arts degree in Journalism, Psychology and Literature from Bangalore University, India. She joined Lee lab the summer of 2012 as Administrative Services Coordinator. In the past, she has served as an Administrative Assistant at the University of Michigan and Georgia Health Sciences. Currently, she manages general lab administrative duties and as a secretary for Dr. Amy Lee. She enjoys reading, gardening, cooking and spending time with her family.
Undergraduate Assistants
Alumni
Postdoctoral Fellows:
Anisha Moring, Ph.D., Technology Acquisition Contracts Coordinator at Merial Limited
Kuai Yu, Ph.D., Postdoctoral Fellow, Emory University
Guiying Cui, Ph.D., Lecturer, Emory University
Irina Calin-Jageman, Ph.D., Associate Professor, Dept. of Biology, Dominican University
Federick Gregory, Ph.D., Program Manager, Army Research Office
Akira Inagaki, M.D., Ph.D., Assistant Professor, Nagoya City University, Japan
Carl Christel, Ph.D., Scientist, Sirion Biotech, Germany
Keith Bryan, Ph.D., Research Scientist, Integrated DNA Technologies
Elizabeth Scholl, Ph.D., Contract Scientific Editor
Graduate Students:
Alyssa Tippens, Ph.D., Publication Lead, Bristol-Myers Squibb
Lisa Kreiner, Ph.D., Contract Scientific Editor
Meagan Jenkins, Ph.D., Medical Writer, Conisus
Kristin Kim, M.S., Research Associate, Emory University
Research Intern
Josue Lopez, M.S., Graduate Student, University of Iowa
Undergraduate Students:
Drake Bouzek, B.S., Research Associate, University of Iowa
Natalia Cardona, B.S., PhD student, Biomedical Engineering, University of California-Davis
Daniel Soh, B.S., Research Intern, University of Iowa
Research Associates:
Xiaoni Liu, B.A., PhD student, Molecular Cellular Biology, Yale University